Lora S. Irish
is celebrating 17 months of being back on the web with a huge
Halloween Pattern Sale!
The Complete Pattern Collection
(every pattern and pack in our web store)
Only $149.95
LET'S DO THE MATH
2465 original L. S. Irish patterns at only 6 cents each!
133 pattern packages at only $1.13 each!
17 new packages available nowhere else on the web!
351 new patterns available nowhere else!
300 pyrography fill and texture patterns, available nowhere else!
All at a price too good to resist!
If you work just one pattern every day,
that's only 6 3/4 years of daily fun!!!

Oct. 20, 2014
We wanted to share that
Roy Millsaps, AKA Big Couger,
Whispering Woods International School for Fine Wood Working,
is sharing an online, step-by-step tutorial at
WoodWorkingChat.com!
 Carving Class
He is just beginning the shaping steps to a realistic fish carving plaque.
Sign up, Join in, Post your pictures and Comments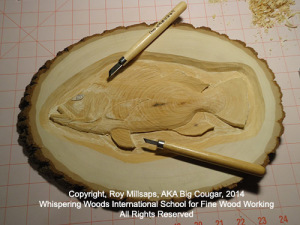 Posted with Permission by Roy Millsaps