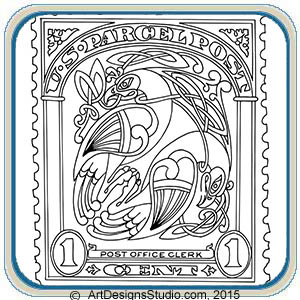 Celtic Knot Birds Postage Stamp Wood Burning Project
In-depth, step-by-step wood burning project
Free Postage Stamp Pyrography Project, Sponsored by Art Designs Studio:
Page 1, Page 2, Page 3, Page 4, and Page 5
Learn free online at LSIrish.com !!!

CP137 Sampler Pattern Package by Lora Irish
126 Line Art Patterns and 72 Shaded Drawings
Wood Carving, Pyrography, Quilting, and any Craft Project
Not sure which pattern package at Art Designs Studio to chose?
Try our new Sampler Package, featuring a variety of our favorite
designs, topics, and themes.
Another Lora Irish Exclusive Pattern Pack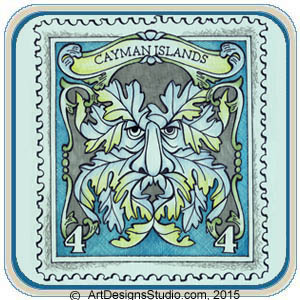 Postage Stamp Pattern Package by Lora Irish
90 Line Art Patterns, featuring postage stamp frames, accents, and banners.
Celtic Knots, Wood Spirits, Greenmen, and Finished Sample Ideas
Another Lora Irish Exclusive Pattern Pack
Free Lora Irish Pyrography Postage Stamp Project PDF
We are so excited about our New Postage Stamp Pattern Package
that we have included a Free Pyrography Project PDF on our
Pattern website at ArtDesignsStudio.com.
No gimmicks, no newsletter sign-ups, no gathering of your
personal information … Just Plain FREE FREE FREE!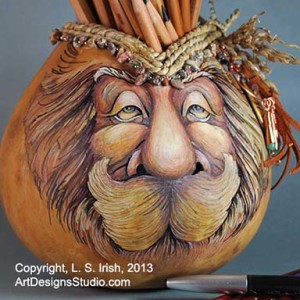 With these free online craft projects, taught by Lora Irish, author of over twenty wood carving, pyrography, and craft pattern books, discover the many areas of arts and hobbies in which you can expand your hobby horizon.  Take an in-depth look at how easy it is to add coloring to your wood carving, pyrography, and gourd art using watercolor pencils, acrylic paints, and fabric dyes.  With a little scrap book paper, glue stick, and scissor turn any craft line art pattern into a personalized, one of a kind, landscape or Celtic knot background for your favorite photos.  Lora Irish will show you how to use common permanent marking pens to create your own Mushroom Wood Spirit handbag and how to use any wood working scroll saw pattern as a fusible interfacing applique quilt pattern.
Each craft project will take you through the steps of what supplies you will need, how to prepare your surface – quilting fabric, scrap booking paper, and even foam board, and how to put your craft project to use.
Lora Irish offers an in-depth look at how easy it is to use common craft on oil paints to add full coverage, shading, and detailing to your wood working, wood carving, and even pyrography projects.  She will teach eight specific coloring techniques – dry brushing, oils over acrylics, acrylics over oil stain, blending, marbleizing, and masking with tape.
We hope you enjoy your visit with these free online craft projects by Lora Irish and will bookmark our site.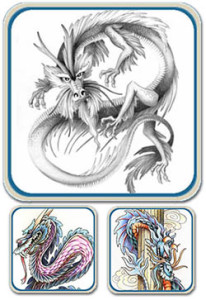 Painting your Projects
Watercolors and Wood Burning
Adding Skin Colors with Watercolors
The Color Wheel, Who Is R. G. Biv?
Painting Eyes
Dry Brush Color Application
Basics to Painting:
Wood Carving and Burning Painting Supplies
Paint Kit Supplies
Steps to Success
General Techniques used in Wood Carving Painting
Burnishing your Wood Carving
Simple Blending with Acrylic Craft Paints
Acrylics over a Primer
Simple Dry Brushing
Dry Brushed Acrylics over Oil Based Stains
Marbling and Splatter Painting
China Painting with Acrylics
Vintage Painting with Acrylics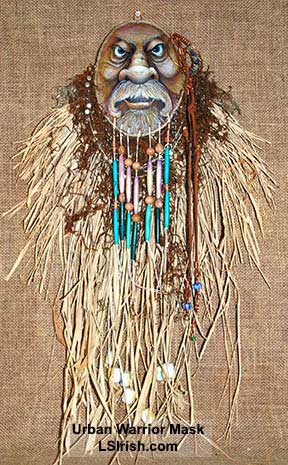 Quilting Projects
Fretwork Butterfly Quilt Art, PDF download
Fretwork Butterfly Quilt Art Blog Page
Marker Painted Quilt Squares
Gourd Art
Wood Spirit Gourd Mask
Wood Spirit Gourd Pencil Jar
Braided Raffia Gourd Rim
LSIrish.com
LSIrish.com now offers over 550 pages of free, online projects and patterns
for wood carving, relief carving, whittling, wood burning, pyrography, painting,
paper crafts, quilting, and gourd art. Many of our free craft projects
have multiple pages, please Book Mark our site for your convenience.

 Art Designs Studio Patterns
Art Designs Studio is Lora S. Irish's wood carving, pyrography, and crafts patterns web store with
over 2500 patterns and designs, ready for you to download today. Line art, shaded drawings, and patterns for wood carving, pyrography, leather carving, applique quilting,
paper crafts, scrap booking, gourd art, and so many more.