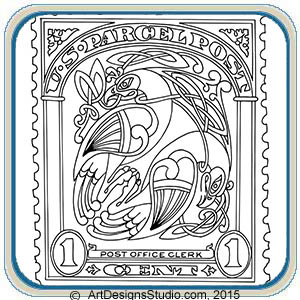 Celtic Knot Birds Postage Stamp Wood Burning Project
In-depth, step-by-step wood burning project
Free Postage Stamp Pyrography Project, Sponsored by Art Designs Studio:
Page 1, Page 2, Page 3, Page 4, and Page 5
Learn free online at LSIrish.com !!!

CP137 Sampler Pattern Package by Lora Irish
126 Line Art Patterns and 72 Shaded Drawings
Wood Carving, Pyrography, Quilting, and any Craft Project
Not sure which pattern package at Art Designs Studio to chose?
Try our new Sampler Package, featuring a variety of our favorite
designs, topics, and themes.
Another Lora Irish Exclusive Pattern Pack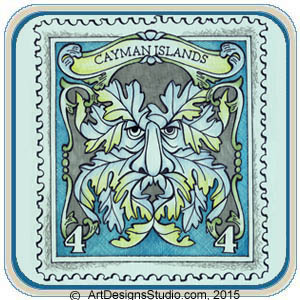 Postage Stamp Pattern Package by Lora Irish
90 Line Art Patterns, featuring postage stamp frames, accents, and banners.
Celtic Knots, Wood Spirits, Greenmen, and Finished Sample Ideas
Another Lora Irish Exclusive Pattern Pack
Free Lora Irish Pyrography Postage Stamp Project PDF
We are so excited about our New Postage Stamp Pattern Package
that we have included a Free Pyrography Project PDF on our
Pattern website at ArtDesignsStudio.com.
No gimmicks, no newsletter sign-ups, no gathering of your
personal information … Just Plain FREE FREE FREE!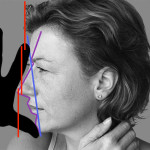 How to Carve the Wood Spirit Face
I have started my newest online, free project for a wood spirit carving. 
The supply list is posted on this home page post.
Step 1:  Wood Spirit Carving, the Planes of the Face      Let's take time to really look and understand the planes and angles in the human face before we begin wood carving the wood spirit. Please check back over the next few days as new steps are posted.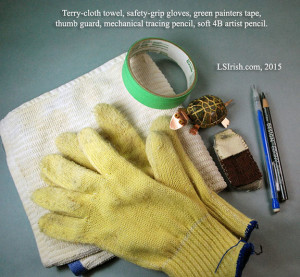 Beginner's Tool and Supply Kit
Are you wondering where to start, which knives or tools your really need to begin carving? Take an in-depth look at Lora Irish's carving, whittling, and chip carving tool kit. Includes links to Amazon to guide you in stocking your own carving kit, and recommendations for which beginner's, intermediate's, or advanced knives, gouges, and safety gear may be best for you.  Close-up photos list each item shown.

New FREE Online Relief Carving Seminar
Mule Deer Buck Relief Carving is now posted in full here on our blog.
Begins Feb. 2nd, 2015 here on our blog and at
FamilyWoodcarving.org and WoodWorkingChat.com!
Join Lora as she takes you step-by-step through this project.
We will explore:
1. Carving blank preparation and pattern placement.
2. How to determine the layers of your pattern for easy rough-out carving.
3. How to use texture to add impact to your work.
4. The basics to rounding over shapes and elements.
5. Using wood burning – pyrography – for your fine detailing and joint clean-up.
6. Dry brushing your carving with acrylic craft paints.

Twistie Stick Snake Cane Carving.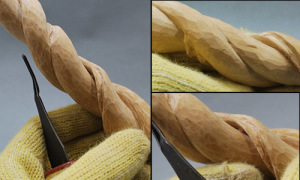 Walking Stick Joinery
Walking Stick Wood Species – Harvesting Your Sticks
Walking Stick – Adding Extras
Walking Stick – How to Clamp Your Handle
Day 1 Twistie Stick Snake Cane Carving
Day 2 Twistie Stick Snake Cane Carving
Day 3 Twistie Stick Snake Cane Carving
Day 4 Twistie Stick Snake Cane Carving
Day 5 Twistie Stick Snake Cane Carving
Free Mountain Man Cane Carving Pattern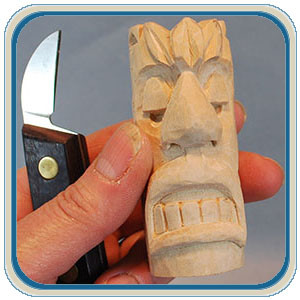 Wood carving is the wonderful craft of cutting three dimensional patterns and designs into wood using chisels, gouges, and bench knives.  There are several styles of wood carving which can include character carving, Old World style architectural carvings, decorative cut-out carvings, wood sculpture, power carving, chain saw carving, relief carving, and chip carving.  Most wood carvers try their hand at many of the different carving styles, then settle into one or two particular favorites; for Lora S. Irish those favorites are relief carving, whittling, and chip carving.
In these free online wood carving projects and instructions Lora will show you what tools you will use, how to sharpen your tool edges, how to prepare your wood, which wood species is best for your carvings, and how to trace and transfer your pattern to the wood.  Next you can explore the different versions of relief carving – high relief, low relief, round-over edge carving, and bas relief.  Learn how to make dramatic shadows in your landscape carvings and add the fine detailing to your Canada Goose with wood burned accents.  To complete your wood carved project you can read about oil finishes, paste wax, and polyurethane sealers or follow Lora Irish's projects in Coloring Your Projects to learn how to add painted details.
If you are just beginning your new craft of wood carving, please download Lora S. Irish's free e-book,
Your First Carving Pattern, which is posted on our wood carving and pyrography pattern website, Art Designs Studio.
We hope you enjoy your visit and that you will Bookmark Lora S. Irish's blog.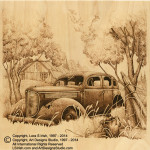 Newest Blog Posts – Pyrography Projects
Using Contrasting Tonal Values for Drama
Coloring Your Wood Burning Projects
Pyrography Ceremonial Mask
Weekend Whittlers
#001 Working With Green Wood
#002 Carving Tool Handle Styles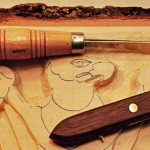 Wood Carving Basics
Basics to Wood
Woodcarving Basics
Carving Woods
Glossary to Mail Wood
Australian Carving Woods
Glossary to Mail Order Wood
Working With Wood Grain
Softwood & Hardwood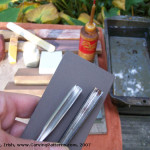 Woodcarving Tools & Sharpening
Tools and Tool Kits
Basic Carving Tools
The Beginner's Tool Kit
Bracing Table Relief Carving
Carving Tools Close-Up
Sharpening Your Tools
Sharpening Stones
Sharpening Bench Knives
Sharpening Round Gouges
Bull Nose Chisel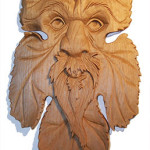 Woodcarving Finishes
Finishing Your Project
Preparing for Finishing
Stains, Oils, and Washes
Oil, Wax, and Urethane
Carving Session Preparation
The Depth Of The Levels
Your First Carving Pattern
Relief Carving Techniques
Background Treatments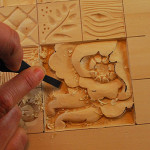 Basic Cuts and Carving Tips
Stop Cut in Relief
Low Relief Carving
High Relief Carving
Smoothing the Background
Laminating
Using a Depth Gauge
Smoothing Backgrounds
Working with the Grain
Adding Drama through Shadows
Relief Carving
Levels in Relief Wood Carving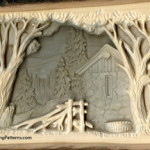 Dramatic Shadows
Undercutting Technique
Level Changes, Elements
Dramatic Shadows Pattern
Relief Wood Carving Projects
Canada Goose Project
Canada Goose Project 1
Canada Goose Project 2
Canada Goose Project 3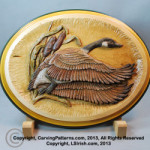 Canada Goose Project 4
Landscape Relief Carving
Floral Clock
Sailboat Relief Carving
Carving the American Hero
Carving the Relief Wood Spirit
Snowman Wall Hanger
American Heroes
Wood Carving Whittling Projects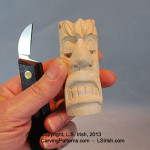 Tiki Chess Set Project
Sun Fish Decoy
Specialize Carving Techniques
Introduction to Love Spoons
Welsh Love Spoons 1
Welsh Love Spoons 2
Basic Cutting Techniques
Carving A Chain and Ball
Ball and Cage Carving
Wood Spirit Carving
Canes and Walking Sticks
Russian Birch Bark Carving
Chip Carving Projects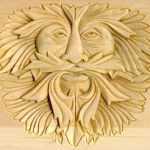 Chip Carving
Sharpening Your Chip Knives
Positive Space in Chip Carving
Chip Carving Seminar
Chip Carving Supplies
Chip Carving Graphed Patterns
Chip Carving Hand Positions and Grips
Chip Carving – Triangles and Square Chips
Chip Carving – Straight-Wall Chips
Chip Caved Game and Chess Board
Chip Carving Sampler Pattern Layout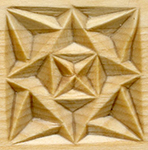 Chip Carving Common Mistakes
Chip Carved Shortbread Cookies
Working with Patterns
Working with Your Patterns
Transferring the Pattern
Pounce Patterns
Enlarging and Reducing
Simplifying a Pattern
Working with Levels
Lettering Layouts
Dividing a Circle
Free Form Patterns
Cattle Branding Layouts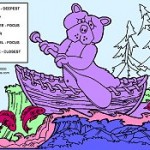 Creating a Perfect Circle
Painting & Coloring
Coloring Your Project
Adding Skin Colors
Basics to Painting
Acrylics over a Primer
China Painting with Acrylics
Dry Brushed Acrylics
Marbling & Splatter Painting
Simple Dry Brushing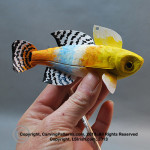 Vintage Painting
Painting Supplies
Paint Kit Supplies for Painting
Steps to Success, Painting
Burnishing Your Wood Carving
Simple Blending Acrylic Paints
Techniques for Painting
Basics to Painting
Painting Eyes
Watercolors & Wood Burning
The Color Wheel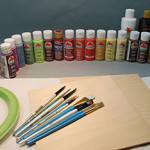 Dry Brushing
Art Designs Studio Patterns
Art Designs Studio is Lora S. Irish's wood carving, pyrography, and crafts patterns web store with
over 2500 patterns and designs, ready for you to download today.
Line art, shaded drawings, and patterns for wood carving, pyrography, leather carving, applique quilting,
paper crafts, scrap booking, gourd art, and so many more.