Learn Pyrography, Wood Burning, with Lora S. Irish!
NEW FREE PROJECT
Leather Purse Pyrography, Greenman Face, Project
Leather Purse Pyrography, Double-Needle Stitching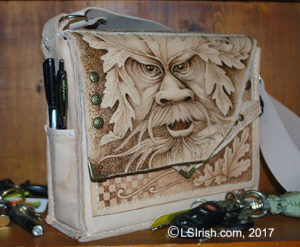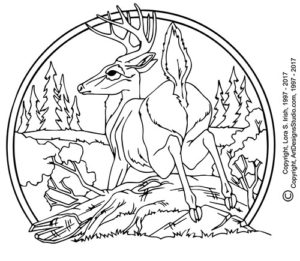 Wildlife Cameo Free Pattern Pack 2017
Try it before you buy it – A free pattern pack from our ArtDesignsStudio.com website.
How to Download Step-by-step text file instructions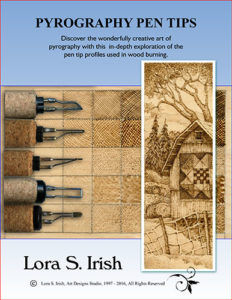 Pyrography Pen Tips by Irish    Pyrography Pen Tips, free Lora Irish pdf
Learn what type of stroke and shading the most common pen tips create.

Toxicity in Pyrography and Wood Carving – Simple, common sense ideas to avoid the potential health hazards in your art studio.
Leather Burned Jewlery –  Discover the fun of leather pyrography.

Colored Pencils  –  Artist quality, colored pencils are a perfect coloring agent for your next wood burning project.
Celtic Knot Birds Postage Stamp – Step-by-step pyrography project featuring a Celtic Knot Bird in a Postage Stamp design.
Photography for Pyrography – March 10th, 2015 – Let's take a close look at how your photographs can be used for your next pyrography project, and how the color, shadow, and light of  those photos affect the tonal values of your wood burning.  Today we will start by defining the important terms that are used in describing light, shadows, colors, arrangements, and designs that we use in wood burning.
Contrasting Tonal Values – Learn how to use contrasting tonal values to create dramatic depth in your landscape, scenery, and wildlife wood burning.
Fading Pyrography Projects – Discover why those older pyrography projects appear to fade over time.
Pyrography on Paper – Learn how to use watercolor paper, and other artist quality papers for your wood burning patterns.
Mushroom Pyrography Doodles – The textures, strokes, and shading on our pyrography does not have to be subtle, graduated shadings. This project takes your wood burning to a totally new level by using small, intrigue designs as your fill burnings.
This realistic landscape, featuring an abandoned car, a wooden fence line, and an old barn, uses the black and white sepia tones of the burn to bring the old car into the forefront of the finished design.
Fundamentals and Techniques of Pyrography
Explore the basic tools, supplies, and techniques used in wood burning and pyrography. Learn the difference between wood burning tool s – one temperature and variable temperature units. Discover what patterns, textures, and burn strokes each pen tip creates, then work those wood burning strokes on a practice board. Enjoy the tutorials on tonal values, the dark through light-colored burnings the create the three-dimensional pyrography for your patterns and designs.
The Basic Wood Burning Tool – One Temperature and Variable Temperature Units, Pen Tips
Wood Burning Technique Samples – Art Styles used in Pyrography
Basic Wood Burning Strokes and Textures – Sample Wood Burning Strokes
Pyrography Practice Boards – Sample Practice Boards
Simple Pyrography Shading – Sea Dragon Circle Project
Tonal Value Sepia Worksheet – Creating a Practice Board Sepia Chart
Wood Burning Sepia Values – Mule Deer Portrait Project
Contrasting Tonal Values – Grandpa's Pride, Abandoned Car Project
Mapping Your Pyrography Pattern – Flamingo Project
Pyrography, Working in Layers – Red Hen in Knitting Basket Project
Daisy Pattern – Long Black-Eyed Susan Daisy Project
Coloring Wood Burned Projects – Old Time Fireman Project
Coloring Wood Burnings with Colored Pencils – Steam Punk Star Project
Coloring Wood Burnings
Bookmark
our website
to keep up to
date with
Lora S. Irish
new projects
New Projects
Coming Soon!
In-depth, step-by-step instructions, including a free pyrography pattern by Lora Irish. Learn how to create the shading that gives your pyrography project depth. Explore how to burn animal fur and hair, wood grain, human faces, and fun doodle patterns.
Carousel Horse Wood Burning – Your First Wood Burning
Wood Burning Animal Fur and Hair – Cow Portrait Project
Blue Heron Tavern Pyrography – Blue Heron Duck Decoys Project
Pyrography Holiday Cards – Three Snowmen Christmas Card
Wine Caddy Sunflower Design – Sunflower Project
Pyrography Steps for Portrait Burning – Fairy Pixie Portrait
Wood Burning the American Hero – 911 Fireman Project
Cougar Pyrography Project – Mountain Lion Project
Pyrography Doodles – 1950's Retro Mushroom Project Post #2, #3, #4, #5, #6, #7
Pyrography Feather Border 1 – American Indian Feather Border Project, Post #2
Ceremonial Mask Pyrography Project – Native American Mask Project, Post #2, # 3, #4, #5
Pyrography Leather Journal – Mythological Griffin Journal Project
E-Books, E-Projects, and E-Project Bundles available through Lora Irish's pyrography pattern website:  Art Designs Studio
Mayan High Priest Pyrography E-Book


Exclusive Designs by Lora S. Irish, 33 Page e-Project, Ready for Download
Art Styles of Pyrography by Lora Irish


Exclusive Irish Book, Art Styles of Pyrography, 190 pages, 15 projects, Ready for Download
Animal Portraits Pyrography E-Project


Exclusive Lora S. Irish Book, 41 pages, 3 in-depth projects, Ready for Download
Pyrography Doodles E-Book


6 In-Depth Step-by-Step Projects, Includes Pyrography Doodles Pattern Package
Ceremonial Masks Pyrography E-Book


Exclusive Lora S. Irish Book, 41 pages, 2 in-depth projects, great beginner's techniques
Pyrography Hardcopy Books by Lora S. Irish, available through Amazon.com
Great Book of Woodburning by Lora Irish


200 pages of techniques, instructions, step-by-step projects, 25 patterns and designs
Arts & Crafts Pyrography by Lora Irish


144 pages of techniques for wood, leather, gourd, paper, and fabric, 35 projects
Patterns
Lora S. Irish, available on our pattern and designs website, Art Designs Studio.