Wood carving, chip carving, and whittling sitemap for LSIrish.com
NEWEST POST
The Art of Spoon Carving Project
The Art of Spoon Carving
Discover why I carve spoons!
Spoon, Fork, and Ladle Styles for Wood Carving, Traditional Spoon Styles and Shapes.
Four Methods to  Cutting a Spoon Blank
Wood Carving a Basic Wooden Spoon
Spoon, Fork, and Ladle Styles for Wood Carving,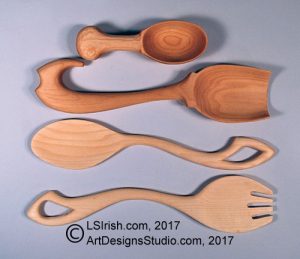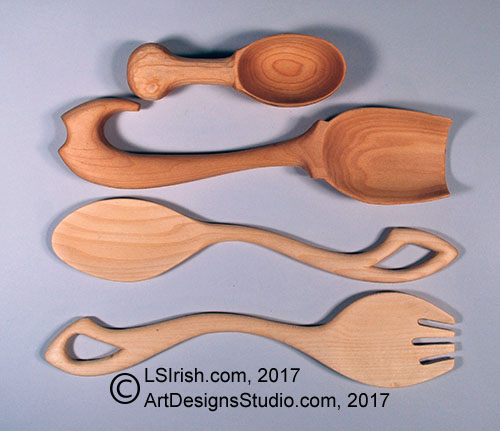 Traditional Spoon Styles and Shapes.
Did you know that there are literally dozens of different styles and designs of wooden spoons, forks, knives, ladles, and spatulas that you can carve with a bench knife, bent round gouge, and a draw knife.
Discover why I carve spoons!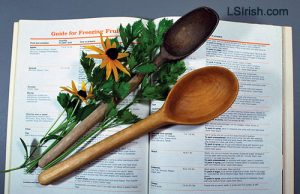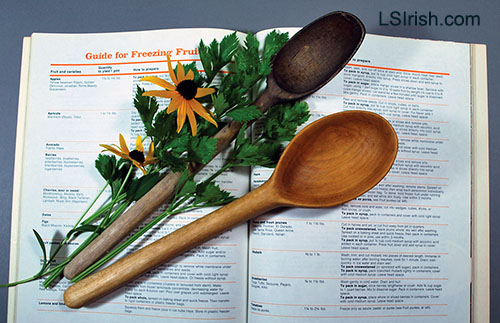 The top spoon in this photo, the one that is black with age is between 125 to 100 years old and was my great grandmother Elsie Burchinal's spoon.  She handed it on to my grandmother, who gave it to my mother, and today it has an honored place in my kitchen spoon jar.
Cross-Crafting Scroll Saw Spoon Blanks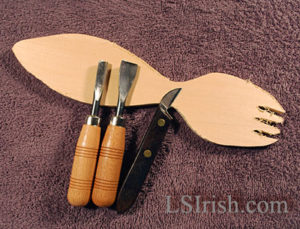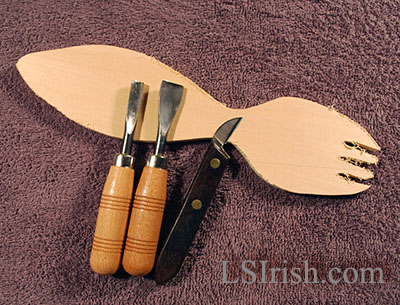 Cross crafting is simple using different hobbies
to achieve your finished project.  This multi-page
project covers using a scroll saw to cut your
spoon blank, how to shape your spoon, and then
how to add a wood burned design.
Painting a Color Wheel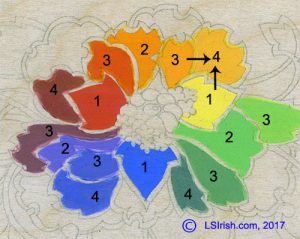 Pyrography, Gourd Art, Wood Carving
Learn how easy it is to mix a full range of tonal values, pure hues, and color shading using just 8 paint colors – red, orange, yellow, green, blue, violet, white, and black.  Project includes a free Lora S. Irish pattern.
Your First Carving by LS Irish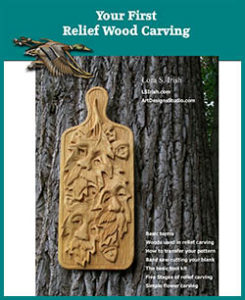 Free PDF e-Project download for Wood Carving
Levels in Relief Wood Carving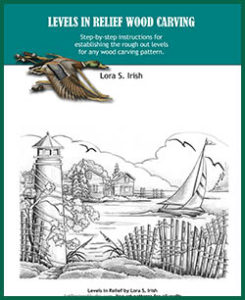 Free PDF e-Project download for Wood Carving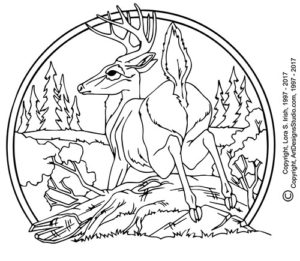 How to Download   Step-by-step
text file instructions

WOOD CARVING TOOL KIT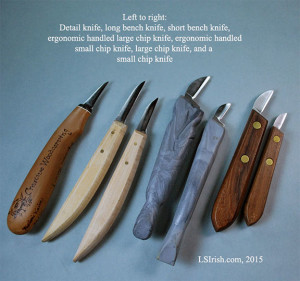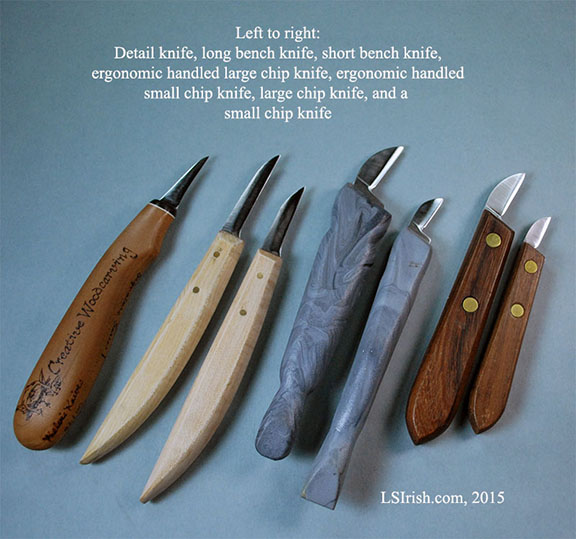 Lora's Wood Carving Tool Kit
Choosing Your Bench Knife
Beginner's Whittling and Relief Carving Tool Kit
Basic Carving Tools
The Beginner's Tool Kit
Bracing Table for Relief Carving
Carving Tools Close-Up
Basic Cuts and Carving Tips
WOOD CARVING BASIC TECHNIQUES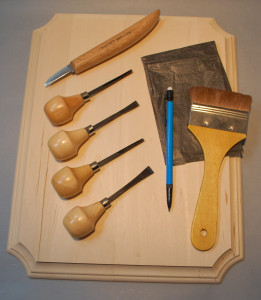 Woodcarving Basics
Carving Woods
Glossary to Mail Wood
Australian Carving Woods
Glossary to Mail Order Wood
Working With Wood Grain
Working with the Grain of your Wood
Softwood and Hardwood Comparison
Carving Session Preparation
Your First Carving Pattern
The Basics about Wood
WOOD CARVING KNIFE SHARPENING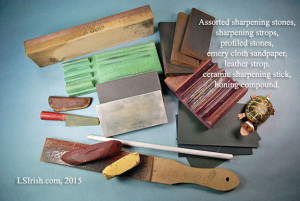 Sharpening Your Tools
Sharpening Stones
Sharpening Bench Knives
Sharpening Round Gouges
Convert a Straight Chisel to Bull Nose Chisel
Sharpening Your Wood Carving Tools
FINISHING YOUR WOOD CARVINGS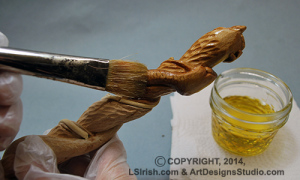 Finishing Your Project
Preparing for Finishing
Stains, Oils, and Washes
Oil, Wax, and Urethane Top Coats
WORKING WITH WOOD CARVING PATTERNS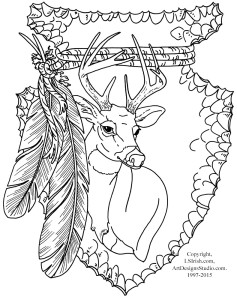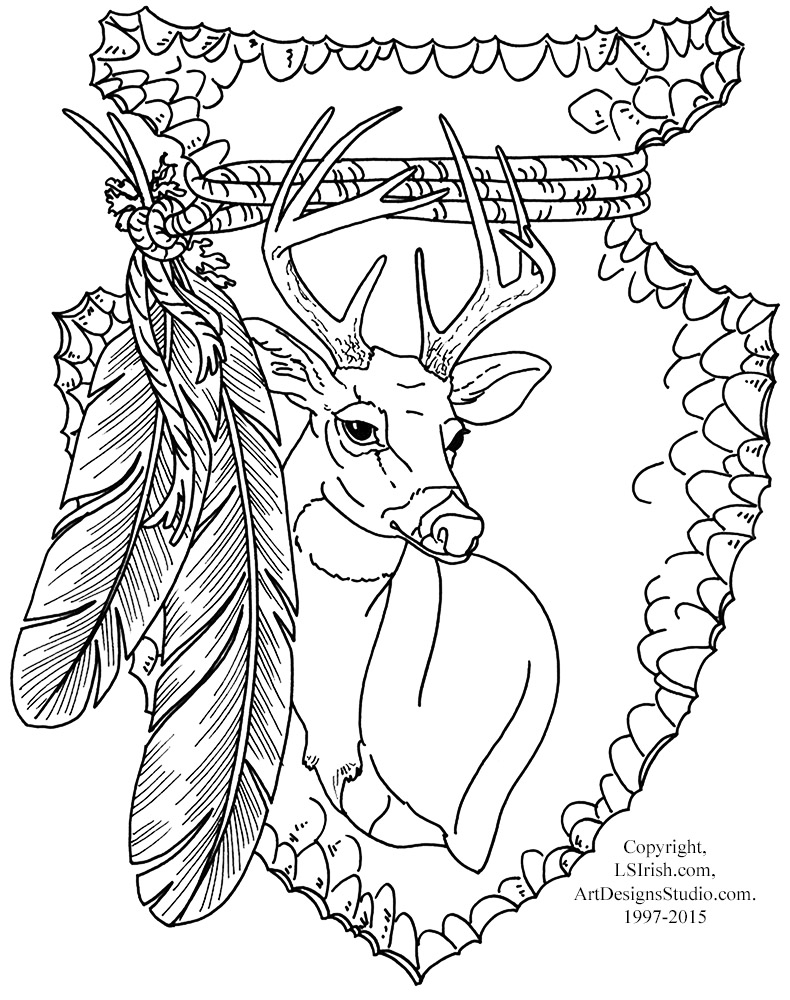 Transferring the Pattern
Pounce Patterns
Enlarging and Reducing
Simplifying a Pattern
Working with Levels
Lettering Layouts
Dividing a Circle
Free Form Patterns
Cattle Branding Layouts
Creating a Perfect Circle by Hand
RELIEF WOOD CARVING TECHNIQUES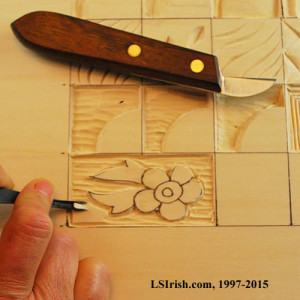 Stop Cut in Relief
Low Relief Carving
High Relief Carving
Smoothing the Background
Background Treatments for Your Relief Carvings
Determining The Depth Of The Levels
Levels in Relief Wood Carving
Using a Depth Gauge
Joint Lines and Smoothing Backgrounds
Adding Drama through Shadows
Introduction of Dramatic Shadows
Undercutting Technique for Dramatic Shadows
Level Changes and Floating Elements for Dramatic Shadows
Dramatic Shadows Pattern Work
Stop Cuts and Rough Out Steps in Relief Wood Carving
FREE RELIEF WOOD CARVING PROJECTS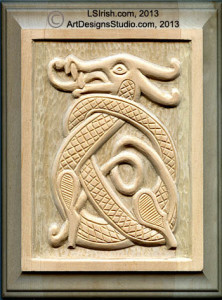 Mule Deer Relief Carving Seminar
Mule Deer Relief Carving Free Project by Lora Irish
Relief Wood Carving Canada Goose Project
Relief Wood Carving Canada Goose Project, Part 1
Relief Wood Carving Canada Goose Project, Part 2
Relief Wood Carving Canada Goose Project Part 3
Relief Wood Carving Canada Goose Project Part 4
Wood Carving – American Heroes
Floral Clock
Sailboat Relief Carving
Free Wood Carving Santa Ornament Pattern
Woodcarving the American Hero
Wood Carving Celtic Dragon 1
Wood Carving Celtic Dragon 2
Wood Carving Celtic Dragon 3
FREE WOOD CARVING WHITTLING PROJECTS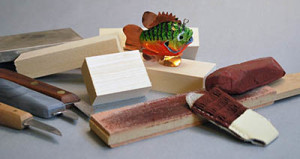 Ice Fishing Decoy Gallery Two
Wood Carving Fish Decoys
Ice Fishing Fish Decoy Gallery
Tiki Chess Set, Beginner's Carving Project
Country Snowman Wall Hanger
Sun Fish Decoy
Whittle Tiki Chess Set Carving
FREE CHIP CARVING WOOD PROJECTS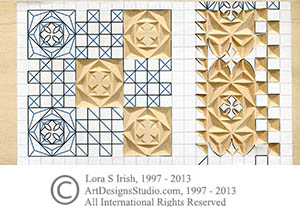 Sharpening Your Chip Knives
Positive and Negative Space in Chip Carving
Chip Carving Seminar
Chip Carving Supplies
Chip Carving Graphed Patterns
Chip Carving Hand Positions and Grips
Chip Carving – Cutting Triangle and Square Chips
Chip Carving – Cutting Straight-Wall, Curve-Wall, Free Forms
Chip Carved Chess and Game Board
Chip Carving – Sampler Layout Pattern
Chip Carving Common Mistakes
Chip Carving Shortbread Cookies
FREE WOOD SPIRIT WOOD CARVING PROJECTS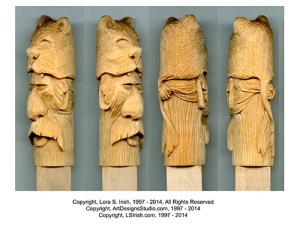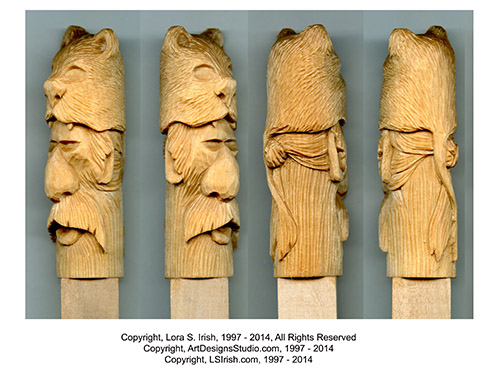 Wood Spirit Carving, Planes in the Human Face
Free Mountain Man Cane Carving Pattern
Carving the Relief Wood Spirit
Wood Spirit Carving, Free Project by Lora Irish
Posted on our Pattern Store Website,
ArtDesignsStudio.com
1 Introduction and Supply List
2 Walking Stick Preparation
3 Exploring the Human Face
4 Planes of the Human Face
5 Carve The Human Face
6 Shaping the Facial Features
7 Sloping the Sides of the Face
8 Rough Cutting the Features
9 Carving the Eyes
10 Detailing the Eyes
11 Shaping the Features
12 Defining the Cheek and Nose
13 Working the Facial Hair
14 Refining the Face Shape
15 Carving the Wrinkles
16 Trimming the Beard
17 Review of the Techniques
FREE WOOD CARVING WALKING STICK & CANE PROJECTS

Day 1 Twistie Stick Snake Cane Carving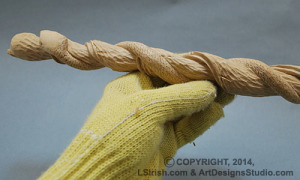 Day 2 Twistie Stick Snake Cane Carving
Day 3 Twistie Stick Snake Cane Carving
Day 4 Twistie Stick Snake Cane Carving
Day 5 Twistie Stick Snake Cane Carving
Wood Carving Walking Sticks, Introduction
Wood Carving Walking Sticks – Common Tree Species
Wood Carving Walking Sticks – Harvesting
Wood Carving Walking Sticks, Working with Bamboo
Wood Carving Walking Sticks, How to Join Your Cane Handle
Wood Carving Walking Sticks, Gluing Your Joint
Wood Carving Walking Sticks, How to Clamp Your Cane Handle
Wood Carving Walking Sticks – Adding Extras
FREE WOOD CARVING SPOON PROJECTS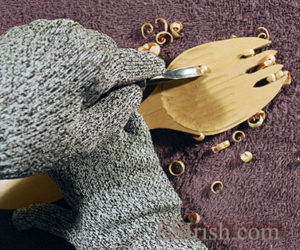 Welsh Love Spoons
Welsh Love Spoons Introduction
Welsh Love Spoons
Cross-Crafting Seminar Introduction
Cross-Crafting Seminar Supply List
Cross-Crafting Seminar Free Patterns
Cross-Crafting Seminar, Scroll Saw Basics
Cross-Crafting Seminar, Setting Up Your Scroll Saw
Cross-Crafting Seminar, Scroll Sawing the Wood Spirit Face
Cross-Crafting Seminar, Wood Burning the Wood Spirit Face
Cross-Crafting Seminar, Colored Pencils for the Wood Spirit Face
Cross-Crafting Seminar, Cutting a Wooden Spoon
Cross-Crafting Seminar, Carving a Wooden Spoon

SPECIAL WOOD CARVING TECHNIQUES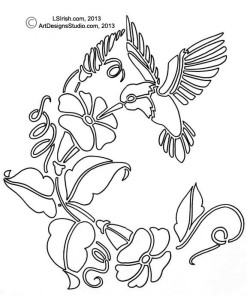 Basic Cutting Techniques
Carving A Chain and Ball
Ball and Cage Carving
Wood Spirit Carving
Canes and Walking Sticks
Russian Birch Bark Carving
Scroll Sawed Layered Santa
Laminating
Incised Carving
Wood Block Prints
Intaglio Carving
PAINTING YOUR WOOD CARVING PROJECT
Coloring Your Project
Adding Skin Colors with Watercolors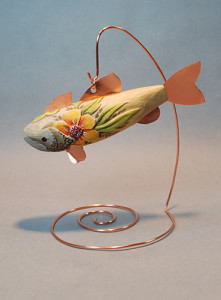 Basics to Painting
Acrylics over a Primer for Wood Carving
China Painting with Acrylics for Wood Carving
Dry Brushed Acrylics over Oil Stain for Wood Carvings
Marbling and Splatter Painting
Simple Dry Brushing for Wood Carving and Pyrography
Vintage Painting
Wood Carving and Burning Painting Supplies
Paint Kit Supplies for Painting Your Wood Carving
Steps to Success, Painting Your Wood Carving
Burnishing Your Wood Carving
Simple Blending with Acrylic Craft Paints
General Techniques Used in Wood Carving Painting
Basics to Painting for Pyrography and Wood Carving
Painting Eyes
Watercolors and Wood Burning
The Color Wheel, Who Is R. G. Biv?
Dry Brushing, Wood Painting Techniques by Lora Irish
Working in Layers, Colored Pencils
MISCELLANEOUS POSTS

Selling Your Finished Work – Art and Craft Shows
Copyright, Can I sell my finished projects
Lora Irish Patterns at ArtDesignsStudio.com
Lora Irish Wood Carving and Pyrography Gallery
About the Artist
Contact Us
Copyright Protection Notice
Go Shopping
Ordering Information
Privacy Statement
Sitemap
Studio Info
FREE LORA IRISH WOOD CARVING PROJECTS
Posted on message boards & forums
These links will take you to
Wood Carving Illustrated Message Board.
Relief Carving Wood Spirit Grape Man WIP – Over 250 detailed, close-up photos with step-by-step instructions of relief carving the wood spirit, green man face. This thread has had over 69,000 views!
Levels in Relief – Learn how to break you carving pattern into levels for easy carving. This project will teach you how to identify the sky, background, mid-ground, and foreground of any design.
Burning your carvings – Pyrography can be an important technique for your wood carving. So learn how to use your wood burner to clean-up fine wood fibers, add detailing, and even add fine shaping to your next wood carving project.
African Mask Low Relief Carving – The African Mask project focuses on how to establish the levels of a relief wood carving during the rough-out stage of work.
Irish Pyrography Seminar – This in-depth pyrography project shows over 250 detailed, close-up photos, step-by-step instructions, and in-depth explanations of texturing, shadings, and fine line work used to create the Advertising Barn landscape.
Walnut Hollow Versa-Tool – Looking for that first wood burning tool, then take a few moments and read through this tutorial for an in-depth review of the Walnut Hollow Versa-Tool used to wood burn a Toucan Family.
Winter Birdhouse Wood Burning Tutorial – This in-depth, step-by-step project focuses on a winter bird house wood burning scene. The project takes you from the initial tracing of the design to the final coloring steps.
Art Designs Studio Patterns
Art Designs Studio is Lora S. Irish's wood carving, pyrography, and crafts patterns web store with
over 2500 patterns and designs, ready for you to download today.
Line art, shaded drawings, and patterns for wood carving, pyrography, leather carving, applique quilting,
paper crafts, scrap booking, gourd art, and so many more.